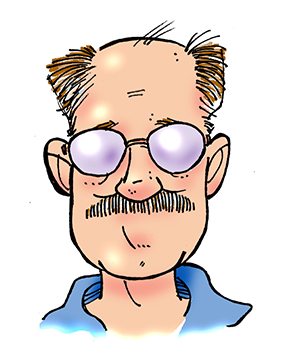 I am a native of Hillsboro, Texas. My mother has a cartoon I drew when I was 6 years old, so I have been doing this a long time. After high school I studied art and history at Oklahoma Military Academy for two years.
My next step was working for the 5th U.S. Army Training Aids Center as an illustrator and cartoonist. If you are a veteran and remember some of your training manuals as looking a little "cartoony," they might have been some of mine. After the Army, I moved back to Dallas where I got degree in Graphic Arts at the original Dallas Art Institute.
Paying my dues with several small art departments, I was hired at the Dallas Morning News, cartooning for a variety of sections of the paper, until 2004, when I was laid off as part of major staff reductions. My last several years have been working freelance and producing my online comic strip "BLUEBONNETS." I have taught cartooning at Dallas Country Community Colleges and at Southern Methodist University.