"Once upon a time I was born, and then I started drawing cartoons, so I joined Texas Cartoonists. The end."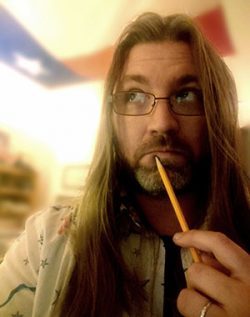 Oh, you need more? Ok let me elaborate a little bit. I first became aware of my ability to draw funny pictures in first grade when my classmates would request me to draw them funny pictures. Apparently, they didn't quite possess this skill like I did. I delighted in entertaining them, so I kept on doing it.
By second grade I discovered Calvin & Hobbes which opened my world to comic strips. Soon I was reading Peanuts, Garfield, Mother Goose & Grimm, Luann, The Far Side, Shoe, The Wizard of Id, Non-Sequitur, For Better or For Worse, and Bizarro (that's just a few of my favorites). Comic strips naturally led me to comic books and indulged in non-superhero titles such as Sonic the Hedgehog, Animaniacs, Looney Tunes, Uncle Scrooge, and Donald Duck. I would imitate all those various art styles which helped mold my technique early on. It was fantastic practice since I didn't have a way to pause the cartoons. I watched weekday afternoons and Saturday morning (this was the early '90s, mind y'all, when TVs were primitive and boxy and I couldn't stream nor pause any show I wanted).
Drawing toons continued throughout elementary school into middle with my skill improving and my wit sharpening. I began doodling my own ridiculous comics making fun of teachers, principals, and other students. Nobody was safe from my biting sense of teenage satire in cartoon form! No doubt this made me a catch with all the girls (hah, I jest).
I was introduced to graphic design in high school and pursued that into college thanks to a wonderful teacher who recognized the potential in me more so than I did. He gently nudged me to expand my artistic horizons (thanks Mr. Horn, rest in peace). It was around this time I decided to set up a little cartooning business on the side I called Midcity Cartoons & Comics. I would accept commissions for design work, illustrations, caricatures, and even some comics. I've enjoyed some moderate success with my enterprise, and I plan to grow it, but I'm not in a hurry. Sometimes I just want to draw something funny for myself without the burden of requirements or deadlines.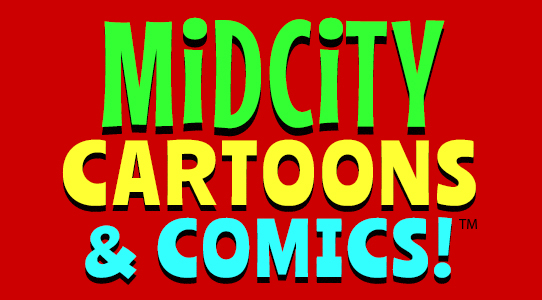 Throughout the years I continue to learn that everything I draw and create is everlasting practice, a journey with no destination. I observe and absorb different kinds of art all the time, and I look for ways ways to apply it to my own. It keeps me motivated and fuels my cartooning ambitions, so I keep on practicing.
Recently I joined the Texas Cartoonists to be part of an elite group of yee-hawin' line drawin' artists like me, and now here I am. This concludes my elaboration. I hope it sufficed.
The end.