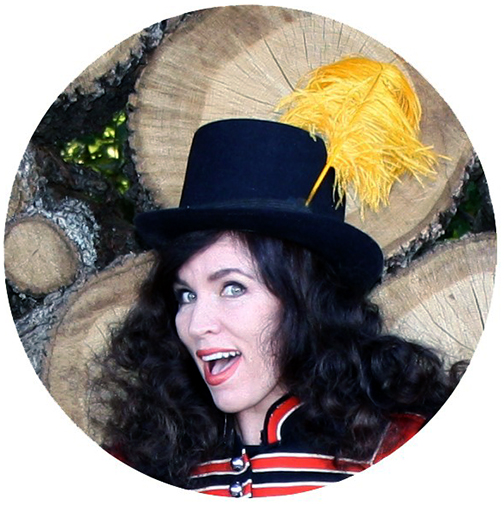 Hi there-I'm Laura Irrgang! I'm an artist and designer living in Lone Oak, Texas. I created the comic strip "Glitterville", featuring Eunice the pathologically positive unicorn, and Nadine the nasty narwhal.
After receiving a degree in Fine Arts from Tarleton State University, I taught high school art and theater, then became an instructor for the University of Texas Informal Course program. I was the assistant director of F8 Fine Art Gallery in Austin, Texas. I served as summer art director for the Northeast Texas Children's Museum, and continue to volunteer with art-related activities and events in my community.
I recently had a painting in the Bath House Cultural Center's "Frida Kahlo: La Flor de Vida" exhibition. My last appearance in DFW was on The Texas Newsroom, a filmed radio podcast, to play harp and sing, and discuss "Glitterville".
Fun facts:
-I've done voice over work for the Devil Lady anime series. (I'm the voices of Motoko, Satomi, and Izumi in the English version.)
-Halloween is my favorite holiday, and I have a Halloween room in my studio.
-I've started taking circus classes in the lyra, which looks like a hula hoop suspended from the ceiling.
-My YouTube channel shares story time videos I read for children. I even take requests from kids and teachers!
-I'm a Girl Scout troop leader.
-I used to do singing telegrams.
-My husband is the Texas super heavyweight left-handed arm wrestling champion.
-I was once the Easter Bunny for a photographer, and spent a week inside a huge bunny costume.
I love to hear from readers!
Visit me any time on social media:
Glitterville Comic
website: http://www.glittervillecomic.com
Facebook: https://www.facebook.com/GlittervilleComic
Instagram: https://www.instagram.com/glittervillecomic
Laura Irrgang Art & Design
website: http://www.laurairrgang.com
Facebook: https://www.facebook.com/LauraIrrgangArtist
Instagram:https://www.instagram.com/laurairrgang
Gregg-Pandemic comic: https://www.laurairrgang.com/gregg-comic

Samples of Laura's work: