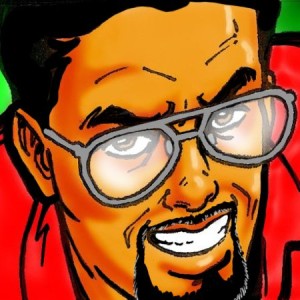 Richard Dominguez was born Eufrancio Ricardo Dominguez on September 22, 1960. His parents, Ricardo and Juanita, along with his four brothers and two sisters (Richard was second to the oldest), first made their home on Nomas Street in West Dallas. It has been rumored that in the Depression Era the infamous Bonnie and Clyde began their 'careers' in that part of Dallas.
Richard's father worked at various odd jobs and provided for his family as best he could. Though far from rich, the family ate regularly. Richard's early years were brightened by samplings of children's book illustrators of the early 20th century. He was also influenced by British comic artist Roy Wilson (Funny Wonder,Tip Top & Jingles) and animated features (particularly Max Fleisher and Walt Disney cartoons.) Golden Age comic book artists such as Bob Kane, Jack Kirby, Will Eisner, and Jack Cole and various EC/MAD Comics cartoonists from the 1950's and 60's were also a great inspiration.


Dominguez' family relocated to the Love Field area of North Dallas where he continued his education. In high school Richard enrolled in Commerical Art and took it for the next three years until graduating in 1979. He later took Life Drawing classes at a community college before taking a job at a local supermarket chain to create and paint point-of-purchase displays. During the late 80's and early 90's, Richard worked as an intern for several art/design studios before venturing out on his own.


Dominguez has been creating, illustrating and drawing ever since he can remember. He is believed to be the only Hispanic storyboard artist working in the Southwest region for the past 15 years. Some of Dominguez' past clients include: DIESTE,HARMEL & PARTNERS, BECKETT PUBLICATIONS, DIGITAS-NEW YORK, GRUPO SAMBA, ORNELAS & ASSOCIATES, PUBLICIS-SANCHEZ-LEVITAN, WILSON/GREY WORLDWIDE, SPANISH MARKETING and TRACY LOCKE PARTNERSHIP. All have experienced Dominguez' bold and dynamic style of art.


In 1993, Dominguez received major media attention with his Hispanic comic book superhero, EL GATO NEGRO, which he not only created, but also wrote and illustrated. Richard calls the title "the Hispanic answer to Batman". Azteca Productions, Richard's publishing company, has published 4 issues of EL GATO NEGRO, which has a huge following of fans worldwide. For more information about EL GATO NEGRO and Dominguez' publishing company, AZTECA PRODUCTIONS.
Richard Dominguez is in the process of going digital, using Adobe Photoshop and MetaCreation Painter to do all of his storyboards and layouts. He continues to study his craft, learning from new methods of painting. He is also influenced by the great Hispanic calender artists, Jesus Helguera and Jorge Gonzalez Camarena. The greats made it look easy, something that Dominguez is striving for in his own work as well. Richard is a former member of the Dallas Society of Illustrators and co-founder of the Professional Amigos of the Comic Arts Society (PACAS). He currently resides in the suburbs of Dallas with his lovely wife Olga, daughter Sarah (8 years old) and son, Piotr (3 years old). When Dominguez is not sitting in front of the drawing board, he is spending time with his family and working around his house. His hobby is collecting Minor League baseball caps.